Client: Examiner.com
It's happening. After six seasons, the final episode of LOST—appropriately titled "The End"—is airing tonight.
A sigh of relief is coming to those who've delayed their LOST experience by "waiting for the box set", and have been covering their ears during "LOST talk" for the past six years.
But for those who are waiting to get their hearts broken and brains shaken up by the series finale, they can do it tonight in one big kumbaya circle at McFadden's in Providence.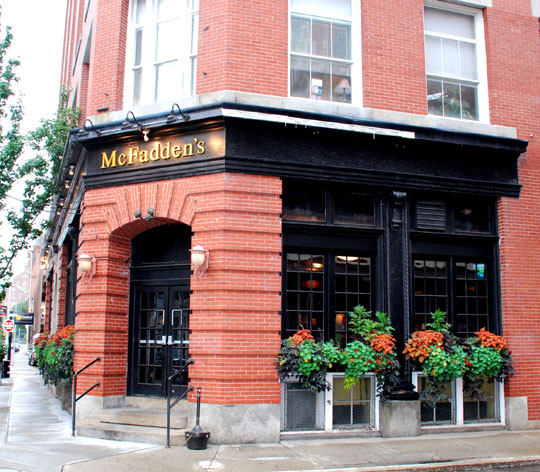 McFadden's put together a LOST series premier party back in February, which was reviewed by Boliyou and The Bear of iheartrhody.com (aka @iheartrhody on Twitter), and who said "Everyone had a good time, using commercial breaks to discuss what had just happened, and how it fit in with the show's history and mythology. The wait staff was really good about not interrupting during programming, while still being attentive."
Let's be serious, you can't watch this by yourself.
So if you're a LOSTie and you enjoy good beer, good food and good conversation, McFadden's should be your destination from 7pm-11:30pm.
From 7pm-9pm they'll be showing the series recap in their semi-private area, but from 9pm-11:30pm it's full-on LOST time. That's right, speakers will be turned up around the whole joint, and every TV will be playing the final episode.
In fact, if you don't watch LOST, or you've been waiting to catch up—McFadden's is probably a really disastrous place to accidentally roll into tonight.
McFadden's is located at 52 Pine St. in Providence, and if you want to reserve a table for the event, you can give Missie a holler at mrose@mcfaddensprovidence.com or on Twitter at @McFaddensRI.
And hey, if you're looking for something a little bigger than the comfort of your own living room, but a little less chatty than the bar, Cinema World in Lincoln is also hosting a LOST finale showing starting with the two-hour recap at 7pm. That's at 622 George Washington Highway in Lincoln, RI. Tickets are free. First come first served. 2 tickets per person.
So, where are you watching LOST tonight?
McFadden's image courtesy of Providencesrestaurants.com.